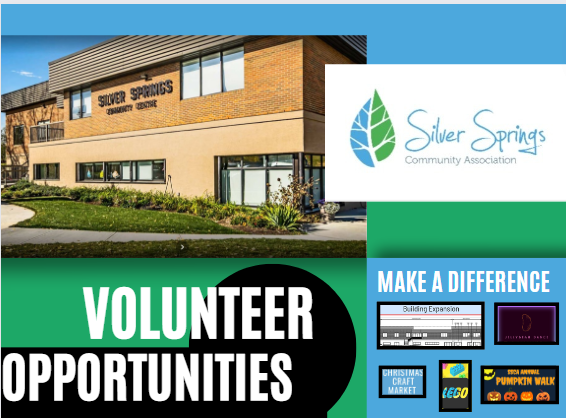 Volunteer Opportunities available with the SSCA!
The SSCA runs amazing events and initiatives with the help of our valued volunteers. Volunteers just like you! Sign up to volunteer with a friend, as a family, or on your own. Gain volunteer experience, learn new skills, meet new people, support your community, and much more. All volunteers received treats and our youth volunteers will receive a certificate that they can add to their volunteer/work experience folder. Make a difference!
Building Expansion
Seeking individuals to support expansion of the SSCA community Centre. Grant or Fundraising experience would be an asset.
Rita@SilverSpringsCommunity.ca
Pumpkin Walk: 2023
Opportunities to support the Jack-O-Lantern Walk on Nov 1st. Volunteers needed to hand out treats, explain raffle, light pumpkins, and hand out glow sticks.
http://volunteersignup.org/74CMX
Christmas Craft market: Nov 18, 2023
Two individuals needed to help out in various positions at the market. Reach out to: Administration@SilverSpringsCommunity.ca
Hello Winter: December 9, 2023
Opportunities to support our Winter Holiday event on Dec 9th. Volunteers needed to help set up, take down, and hand out treats.
https://volunteersignup.org/H3K3M
Winterspace
Opportunities to join the Winterspace committee.
https://silverspringscommunity.ca/silver-springs-winterspace
Botanical Gardens of Silver Springs
Opportunities to join the BGSS volunteer group.
Edible Gardens of Silver Springs
Opportunities to join the Edible Garden volunteer group. https://silverspringscommunity.ca/community/edible-garden
Board of Directors
We are seeking candidates to join our vibrant Board of Directors! We are looking for residents who are passionate about improving our community. No special skills necessary however anyone with management or planning and development experience would be a great asset. If you may be interested and have any questions please contact: administration@silverspringscommunity.ca
Drop-In Playtime
We are looking for individuals to help us run this program (setting up and taking down toys and play material). Reach out to Events@SilverSpringsCommunity.ca.
Lego Competition: Jan 27, 2024
Various volunteer positions available before, during and after the annual SSCA Lego competition. Please email programs@silverspringscommunity.ca
SSCA Ice Rink Crew
Various positions available on our Ice Rink Maintenance crew. Be part of the amazing team that takes care of the SSCA ice rinks each winter for all to enjoy! Reach out to Administration@SilverSpringsCommunity.ca
You can also visit https://silverspringscommunity.ca/volunteer/ for more information about SSCA events, programs, initiatives, and volunteer opportunities.